Sedar tak sedar ada banyak juga buku aku beli online. Mostly buku programming ler. Mostly format PDF. Pernah juga beli hardcopy, tapi lebih practical dalam softcopy. Senang nak share dan copy source code. Selepas bayar terus bleh download, kalau hardcopy mungkin ambil masa untuk courier ke Malaysia pulak.
So hari ni aku nak review sebuah buku Laravel oleh Nathan Wu.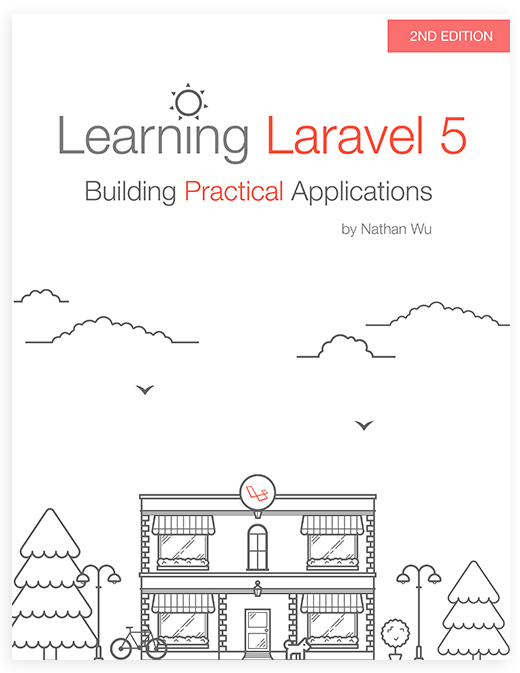 Tajuk
:
Learning Laravel 5 Building Practical Applications
Pengarang
:
Nathan Wu
Url
:
https://learninglaravel.net/laravelbook
Bahasa
:
English
Harga
:
USD49 USD35
Pakej
:

Lifetime access to the online book. (Read 70% of the book for FREE!)
Digital books: PDF, MOBI, EPUB (Premium Only)
Full source code (Premium Only)
Access new chapters of the book while it's being written (Premium Only)
A community of 10000+ students learning together.
Amazing bundles and freebies to help you become a successful developer.
iPhone, iPad and Android Accessibility.
Buku ni aku beli semasa 1st Edition(Laravel 5.2) lagi, ketika post ini ditulis buku ni dah keluar 3rd Edition(Laravel 5.4). Korang akan membangunkan dua applikasi, Support Ticket System dan Blog Application. Pembangunan dua applikasi ini cukup untuk membawa pembaca mengenali, memahami, dan menggunakan Framework Laravel dari ground up. Installasi server, installasi laravel framework, installasi vendor, konfigurasi model, controller, view, eloquent, relationship etc.
Cara Penulisan
Secara umumnya, buku ini amat sesuai dibaca dan dijadikan rujukan oleh pengguna baru dan lama. NW memberi penerangan yang jelas dan menggunakan pendekatan praktikal dari awal sehinggalah akhir bab, dari installasi sehinggalah kepada deploy. Penerangannya disokong oleh kod-kod yang boleh digunakan dan sentiasa dikemaskini dari masa ke semasa. Jadi, kepada yang suka kaedah baca dan praktik dalam mempelajari sesuatu memang sesuai dapatkan buku ini.
Pengisian
Chapter 1 – Installing Laravel
Chapter 2 – Building Our First Website
Chapter 3 – Building A Support Ticket System
Chapter 4 – Building A Blog Application
Chapter 5 – Deploying Our Laravel Applications
Kesimpulan
Secara peribadi antara buku terbaik laravel. Kalau korang memang berniat nak beli, silakan. Dengan harga USD49 USD35, amat berbaloi. Sebab setiap kali ada versi terkini, korang pun akan dapat download versi terkini berkenaan, dalam masa sama yang lama still pun boleh download. Tiada yang lebih berbaloi!
Bintang
Aku bagi 4/5 bintang ajela. Mana ada perfect!
Sekian!